Tension as Police,DSS lay siege at Dino Melaye's residence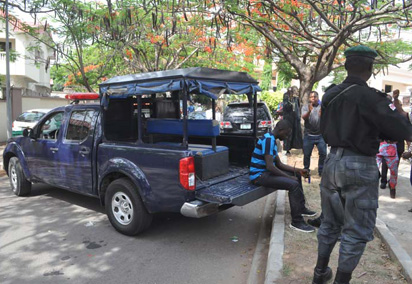 Police and men of Department of State Services, DSS, yesterday, laid siege to Maitama residence of the Chairman, Senate Committee on Federal Capital Territory, FCT, Senator Dino Melaye (APC, Kogi West).   Speaking with a reporter on telephone when the security agents surrounded his 11, Sangha Street, off Mississippi, Maitama,  Senator Melaye  said: "The Police have surrounded  my house." Melaye had earlier tweeted about the incident, saying over 30 armed security personnel had surrounded his residence.
The policemen were led to the residence by an Assistant Commissioner of Police, John, who despite pressure from journalists refused to give reasons for the action  only said the instruction was from above.  They also prevented Senator Melaye's colleagues who trooped to the place to sympathise with him from entering into Melaye's house, even when they spoke with the leader of the police team.   Some Senators who were at the place, include Biodun Olujimi (PDP, Ekiti South), Philip Adudu (PDP, FCT), Rafiu Ibrahim (APC, Kwara South), Isa Hamman Misau (APC, Bauchi Central) and Atai Aidoko (PDP, Kogi East). Also at the place, but not allowed to see Melaye was a former Senator, Mohammed Ohiare (Kogi Central). The number of the police was increased to more than 10 at about 4p.m., this time, Mobile Police men who came in a police van with registration number NPF 3637 D and donated by CBN and body of Banks CEOs, inscribed on both sides of the van.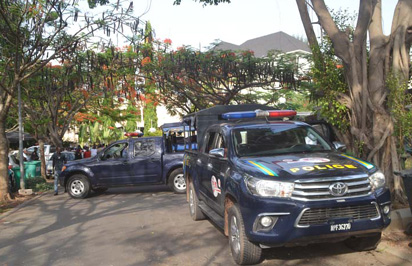 Also, protesters from Internally Displaced Persons, IDPs, camp, Kuchigoro, Airport Road, Abuja, stormed Senator Melaye's residence  where they vowed not to allow the Police to arrest him, whom they described as their benefactor who has been assisting them. Melaye was earlier, yesterday, arrested by the Police at the International Wing of Nnamdi Azikiwe International Airport.  He was picked up at the airport on his way to Morocco for an official engagement sponsored by the Federal Government after checking in. Melaye had written on  his Facebook account in the morning, saying: "I have just been arrested at the International Wing of Nnamdi Azikiwe Airport on my way to Morocco for an official engagement sponsored by the Federal Government after checking in." Meanwhile,  Melaye, who was arrested by Immigration officials, escaped moves by the police to secure his arrest. It was gathered that Melaye was picked up and detained by Immigration officials at the airport, following a directive to that effect by the Nigeria Police. It was also gathered that the Immigration officials told Melaye that the Police had written the service requesting his arrest as he was not allowed to travel out of the country since his name was on the watchlist.   At this point, the lawmaker was said to have challenged the officials demanding to know at what point his name was published as a wanted person on INTERPOL's watchlist. Unable to provide answers to Melaye's question, the Immigration officials, nevertheless, kept Melaye in detention awaiting the arrival of the police that gave the directive for his arrest. But in between the time of Melaye's arrest and detention by Immigration officials, the attention of INTERPOL's Commissioner of Police was sought in a bid to solicit his immediate intervention, before the police chief could arrive at the international airport, a vehicle was already on standby and whisked the lawmaker away to an unknown destination, which apparently was his house where the police later surrounded. Briefing journalists, yesterday, in front of Melaye's residence, Executive Director, Citizens Advocacy for Social and Economic Rights, CASER, Frank Tiete, who condemned in very strong terms, the action of the police, said the police carried out the action without appropriate legal instrument.
Tags APCAtai AidokoBiodun OlujimiFrank TieteIsa Hamman MisauKogi EastMohammed OhiarePDPPhilip AduduRafiu IbrahimSenator Dino Meleye
You may also like...